OCTOBER NEWS:
The Lounge area is now open with limited seating
Tuesday - Friday 2pm - 7pm & Saturday 12pm - 7pm.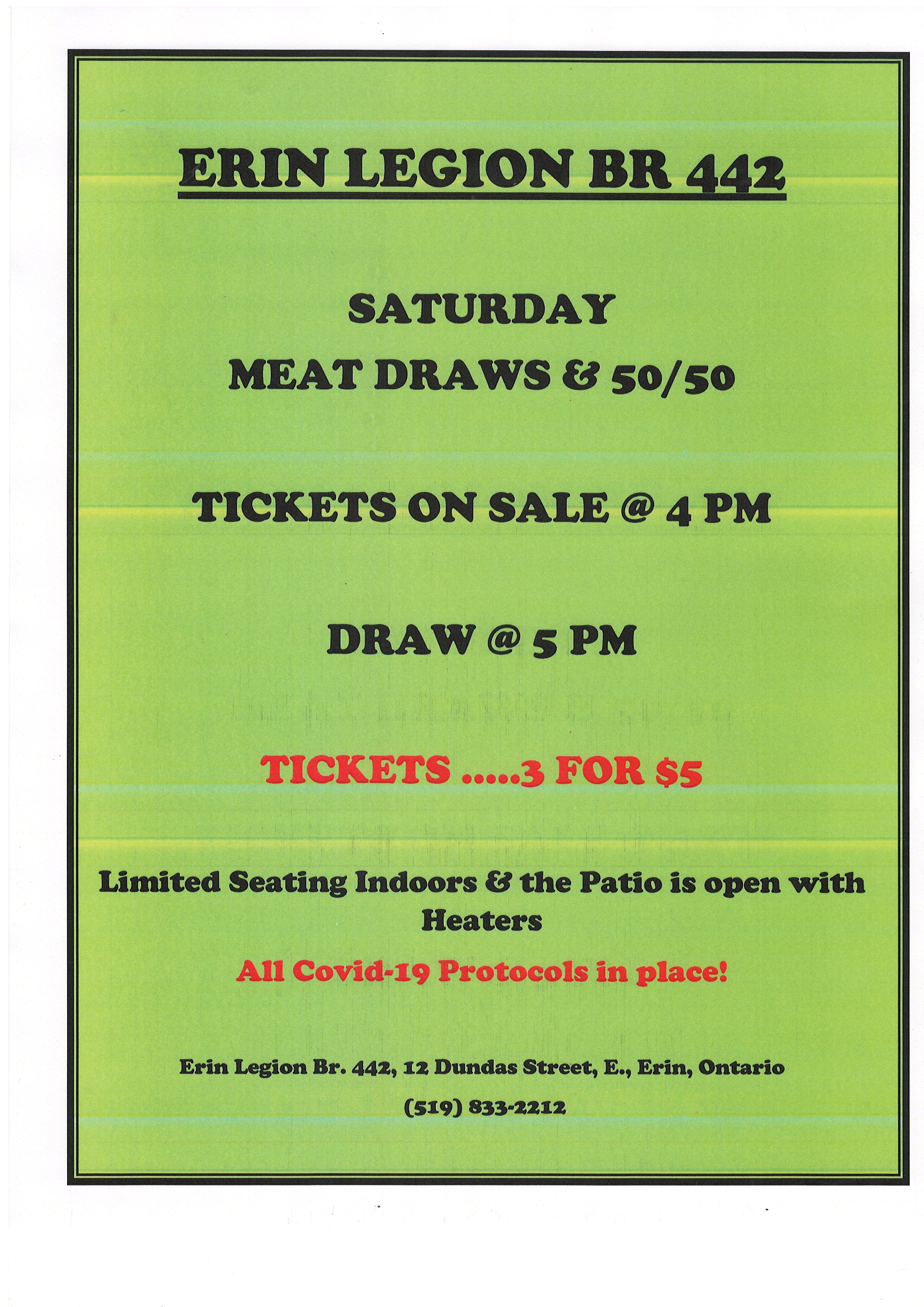 MEAT DRAW
Saturday, 24th October
Click Poster for Details
FRIDAY ROAST BEEF LUNCHES from 12pm - 2pm.
Take out and limited seating available. Roast Beef on a Bun with Coleslaw, Horseradish & a Crunchy Dill Pickle for $7.00
Check the Coming Events Page for the Latest Events
ALL ERIN LEGION MEMBERS

Early Bird Membership Renew Campaign starts today and runs until November 30.
Renew your 2021 Membership during this time for $50 (a $5 saving) and be entered into a draw for one of three free memberships.
To pay in person our lounge is open Wednesday thru Friday from 3pm - 7pm & Saturday from 12 - 7pm. Enter thru rear door.
If you wish you may send a cheque by mail payable to Erin Legion Branch 442
12 Dundas Street East,
PO Box 187,
Erin, Ontario. N0B 1T0
we will mail you a receipt and 2021 sticker by return mail.
You can also pay online by setting up an account by clicking
All Are Welcome At Our Events
You Don't Have To Be A Legion Member
Come and Mingle With Your Friends & Neighbours
Erin Legion is currently seeking 3 individuals to act as our Financial Review Committee. You need not be a Chartered Accountant but should have some accounting knowledge. You may or may not be Legion members but cannot be an employee or a member of the Executive.
The Financial Committee would be required to examine the accounting as well as internal procedures of the Legion to ensure that they are in good order as per the Legion's by-laws. The review would be necessary on a quarterly basis and committee findings would be examined by our Provincial Command.
Interested people can apply via email sent to erincanadianlegion@bellnet.ca. Attention Executive Committee.

BECOME A LEGION VOLUNTEER
You don't have to be a member - By being a volunteer you are helping to serve the community and yourself. If interested click the photo on the left. Contact us at 519-833-7467 - 519-833-2212 or erincanadianlegion@bellnet.ca
Facebook Fans - We are now on Facebook - Just go to the bottom of this page and click on facebook or the red poppy.
please Note: Our Hours are Posted on the Branch Information page
Last Update 22 October, 2020
Below is the new link to our Facebook Page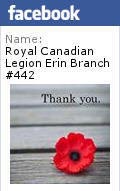 Facebook is an unregulated Social Media medium and
as such Branch 442 Erin and the Royal Canadian Legion
accept no responsibility for the comments or Information posted on Facebook
Website Established 14 November 2009