GREAT NEWS!
Our Patio will be Open from Time to Time
Dates and Hours will be posted Here and on Facebook when available.
No entrance to Legion due to Covid-19
Erin Union Cemetery is open for visitation - Social Distancing Must be Maintained
Go to the Coming Events Page for Cancellation Poster & Annual Memorial Letter
Due to the State of Emergency Announced by the Province of Ontario
"Branch 442 Erin Legion will be Closed until Further Notice"
Check the Coming Events Page for the Latest Events
We will update you on further decisions on this page.
Please share with friends so they are aware of announcements.
Your Legion Executive
All Are Welcome At Our Events
You Don't Have To Be A Legion Member
Come and Mingle With Your Friends & Neighbours
Erin Legion is currently seeking 3 individuals to act as our Financial Review Committee. You need not be a Chartered Accountant but should have some accounting knowledge. You may or may not be Legion members but cannot be an employee or a member of the Executive.
The Financial Committee would be required to examine the accounting as well as internal procedures of the Legion to ensure that they are in good order as per the Legion's by-laws. The review would be necessary on a quarterly basis and committee findings would be examined by our Provincial Command.
Interested people can apply via email sent to erincanadianlegion@bellnet.ca. Attention Executive Committee.

BECOME A LEGION VOLUNTEER
You don't have to be a member - By being a volunteer you are helping to serve the community and yourself. If interested click the photo on the left. Contact us at 519-833-7467 - 519-833-2212 or erincanadianlegion@bellnet.ca
Facebook Fans - We are now on Facebook - Just go to the bottom of this page and click on facebook or the red poppy.
please Note: Our Hours are Posted on the Branch Information page
Last Update 29 July, 2020
Below is the new link to our Facebook Page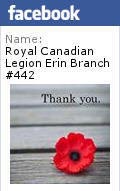 Facebook is an unregulated Social Media medium and
as such Branch 442 Erin and the Royal Canadian Legion
accept no responsibility for the comments or Information posted on Facebook
Website Established 14 November 2009